Natural luxurious fabrics
WELCOME TO ARIBELLA
Our vision at ARIBELLA, is to design a collection of kaftans and resort wear that is alluring yet sophisticated, whilst using the highest quality natural fabrics. We are an Australian owned and operated team & we strive to make our collection unique, luxurious and glamorous.
We source high quality silk fabrics in a range of silk crepe, georgette, chiffon and satin. Each piece is carefully hand-embellished with high quality crystals and beads, therefore no two garments will be exactly the same. 
Due to high demand, we have also introduced a new cotton collection, featuring the same high quality finish and hand embroidered details, at more affordable prices.
We are excited to announce that, soon we will showcase a silk cocktail dress collection with no embellishments, in stunning Charmeuse silk fabrics, perfect for that special occasion.
You'll find our boho gypsy range simply gorgeous with bright colourful patterns and beautiful frills. We hope you love our beautiful collections as much as we do.

Wear luxury. Feel glamorous. Look Amazing
Shop Now
Feel and Look like a Goddess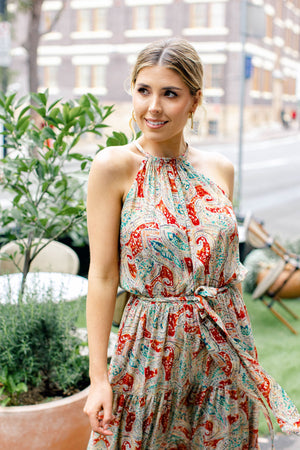 Dakota Love Dress
Sale price Price $347.00 Regular price
Tax Included